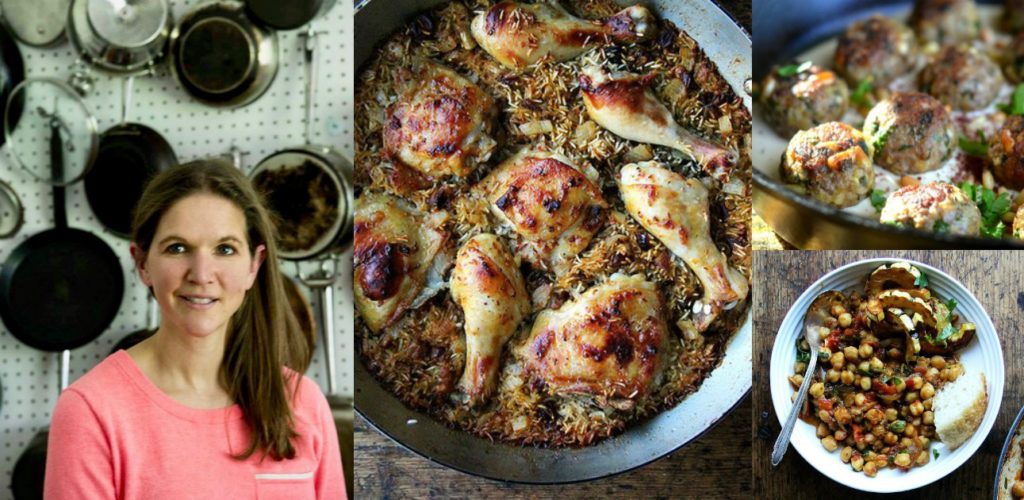 Preserved lemons, homemade harissa, ras-el-hanout—an elemental Moroccan pantry is in everyone's reach. In this Everyday Moroccan class, we'll make these three pantry staples—everyone will go home with a jar of each—then use the ingredients to make three dishes: chickpea tagine with tomato jam, ras-el-hanout, and golden raisins, chicken and rice with dates, orange and harissa, and lamb meatballs with green olives and preserved lemons. We'll roast Delicata squash and make bread to serve alongside. You'll quickly see how easily these super-flavorful dishes come together, making them both weeknight and dinner-party friendly.
Menu will include:
Chickpea tagine with tomato jam, cilantro, and golden raisins
Chicken and rice with dates, orange and harissa
Lamb meatballs with green olives and preserved lemons
Class limited to 12 people.
About Alexandra Stafford:
Ali Stafford, author of the hit food blog "Alexandra's Kitchen" (www.alexandracooks.com), grew up eating her mother's peasant bread at nearly every meal—the recipe for which was a closely guarded family secret. When her website began to grow in popularity, readers began asking how to make the bread they'd heard so much about. Alexandra's mother acquiesced, and the recipe got shared, and has since inspired many who had deemed bread-baking an impossibility to give it a try, and their results have exceeded expectations. It all led to Ali's recent cookbook, "Bread Toast Crumb," praised by the world's top-selling baking-book authors including Dorie Greenspan and David Lebovitz. Ali is also a columnist for Food52.com.
Cancellation policy: We do not offer refunds on purchased tickets. Persons who notify us at least seven (7) days in advance that they cannot attend will receive credit and may register for another class of equal value held within the subsequent two months.
Notes: Cooking class attendees receive 10% discount on kitchenware purchases on class day. Classes are geared to adults unless otherwise noted. However, children over 7 are welcome to attend with an accompanying adult.