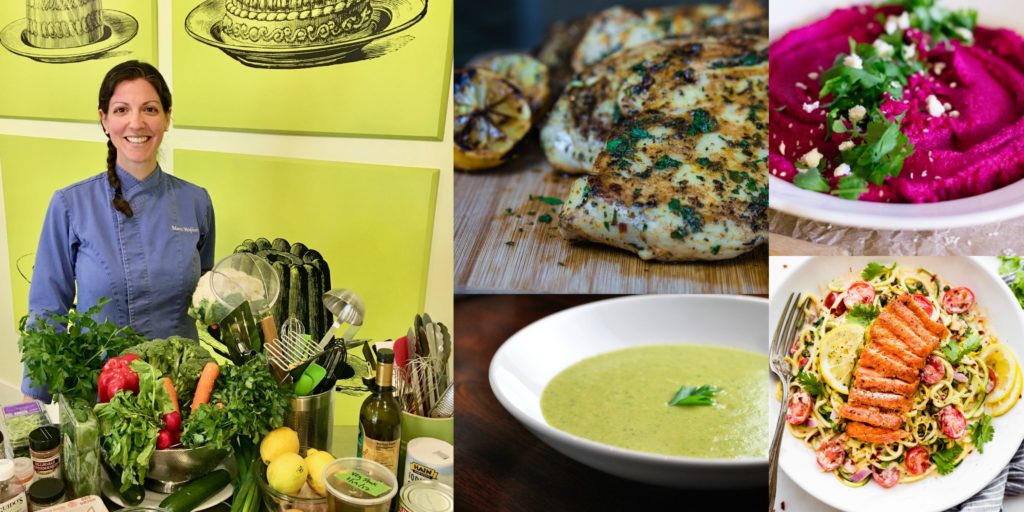 The question is no longer IF you're toxic, but HOW toxic are you? We live in a world full of toxic compounds, both in the environment and within our bodies. It is inevitable we will accumulate a significant amount of these toxins since they are found in the food we eat, the air we breathe, the water we drink, cleaning products, and everyday materials in your home.
Marti Wolfson, Culinary Nutritionist, will explain safe ways to "detox" the body by incorporating specific foods that optimize the liver function. Early spring is a great season to "clean house" as you transition from the heavier foods eaten in the winter. In this HANDS-ON class we will create a variety of detoxifying and delicious foods that are simple, colorful, and nourishing.
Menu:
Pounded Herb and Lemon Chicken
Creamy Broccoli Soup with Cashew Cream
Parisian Salmon Salad with Zucchini Noodles
Cauliflower "Tabbouli"
Beet Hummus
Limited to 12 people.
About Marti:
Marti Wolfson has been an impassioned educator in the integrative health field for over 15 years. She brings a unique set of skills as a health-supportive chef and educator of Nutrition and Functional Medicine. Marti has a degree in Exercise Physiology and Dance from Skidmore College and a Master's degree in Human Nutrition and Functional Medicine from the University of Western States. She is a graduate of The Natural Gourmet Institute where she currently teaches in the public program. She is on faculty at Maryland University of Integrative Health, Integrative and Functional Nutrition Academy, and The Center for Mind Body Medicine.
Cancellation policy: We do not offer refunds on purchased tickets. Persons who notify us at least seven (7) days in advance that they cannot attend will receive credit and may register for another class of equal value held within the subsequent two months.
Notes: Cooking class attendees receive 10% discount on kitchenware purchases on class day. Classes are geared to adults unless otherwise noted. However, children over 7 are welcome to attend with an accompanying adult.