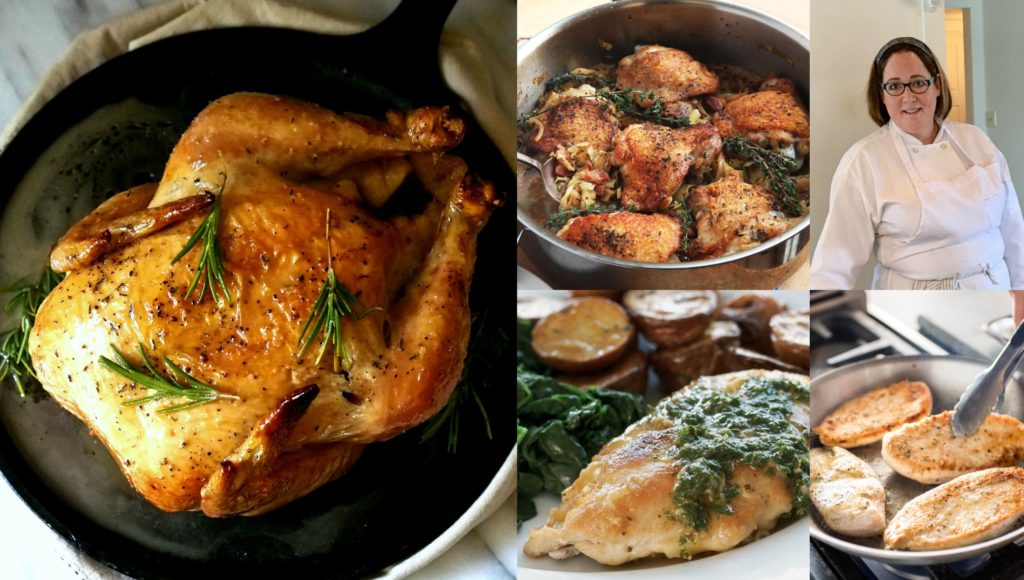 Want to make a consistently delicious dinner for family or guests? Let's start with the basics – chicken. In this informative class you'll learn to make three classic (and delicious) chicken dinners: roast chicken, sautéed chicken breasts, and braised thighs and legs.
Preparing chicken is an important skill for any home cook to know, and we will cover the essential techniques to enable class participants to cook chicken dinners at home with confidence and ease. Knowing how to prepare a chicken — whether a whole bird or just a breast or two — will enable even timid home cooks to readily prepare casual weeknight dinners or confidently host a dinner party with a menu that is do-able and enticing.
You'll learn tips and flavor variations to turn chicken into a culinary experience. We will also cover carving and cutting up a chicken, plus side dishes. And of course we will dine on the cooked results!
Menu: Chicken three ways; farmers' market choice vegetables and potatoes or rice side dishes; simple fruit dessert.
Limited to 12 people.
Cancellation policy: We do not offer refunds on purchased tickets. Persons who notify us at least seven (7) days in advance that they cannot attend will receive credit and may register for another class of equal value held within the subsequent two months.
Notes: Cooking class attendees receive 10% discount on kitchenware purchases on class day. Classes are geared to adults unless otherwise noted. However, children over 7 are welcome to attend with an accompanying adult.