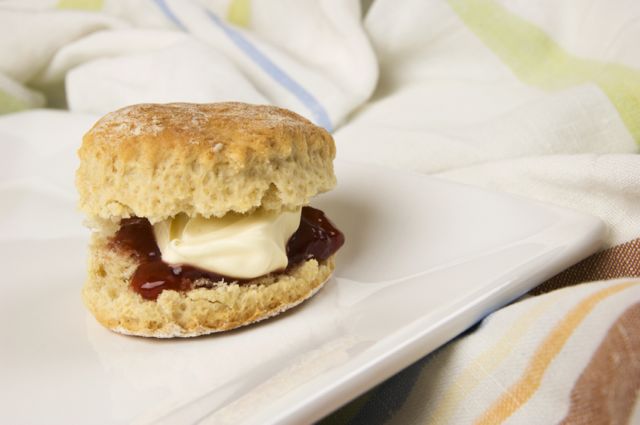 When was the last time you indulged in a nice afternoon tea with all the bells and whistles? Maybe with Valentine's day around the corner it's time to plan a little get together with your sweetie over a lovely tray of tea and goodies. This delicious tradition is the topic of HGS founder Matthew White's latest public-radio program, which you can stream here.
At the HGS, we are crazy about anything to do with entertaining and have an ever expanding selection of vintage and antique tableware in our "china closet," which you can visit here.
Prefer to read about our favorite afternoon repast? The script of the afternoon tea segment from Matthew's weekly program "The Shape of Things," is just below. It was produced with RobinHoodRadio.com in nearby Sharon, Connecticut, "the smallest NPR station in the nation." The entire show archive is at this link.
Afternoon Tea, by Matthew White
Afternoon tea began in England in the early 19th century as an afternoon meal, not as a snack. Today at grand American hotels, they sometimes offer this under the incorrect title "High Tea."That all sounds very highfalutin to us Yanks, but High Tea has nothing to do with an English afternoon tea.
High Tea is a more substantial meal served in the late afternoon or early evening. It's a middle- or working-class kind of meal, not the fancy affair many Americans mistakenly think it to be. The reason it's called High Tea is because it's served on the dining table, which is higher than a tea table.
A proper afternoon tea involves sandwiches (cucumber and watercress are a few favorites) and then of course tea, cakes and scones. The scones are offered with clotted cream and fruit preserves.
Now, let's talk clotted cream. This is a very descriptive term, because as you eat it, you can almost feel your arteries clogging. It originated in South West England and is still produced there, using a special heating and cooling process. It is not made on this side of the Atlantic, nor is it imported because of its limited shelf life. Some American anglophiles whip cream for their scones, but whipped cream is much lighter than clotted, which is thick and dense and, well, really, really good.
Then there's the tea itself. Darjeeling and Earl Gray are two classics, but any good black tea will do. None of this herbal stuff, which by the way is not tea. Herbal teas are infusions. Tea is made from tea leaves, not herbs. The point of a tea is to lift oneself out of the mid-afternoon doldrums, so caffeine is the thing.
To make a good pot of tea, always start with fresh cold water in the kettle. Then it's your choice to use loose tea or tea bags. Loose tea can be put in a tea ball, or you may spoon it directly into the pot. If you go this route, you'll need a tea strainer, which is usually silver and sits over the cup. This is the classic way of making and serving tea. Pouring tea through a strainer for each guest gives the proceedings a rather ceremonial feel. It's very old school, even archaic, but it's also nicely honest.
Finally there is the teapot. Whether it's a Brown Betty or a highly decorated porcelain or silver number, they all have a similar shape. As the song goes, they are "short and stout" (unlike the more vertical coffee pot), with one side having a handle and the other, a spout. It's a very practical yet eccentric bit of crockery that evokes the feeling of comfort.
Afternoon tea is not for minimalists, but then nothing created in 19th-century England would be. When a tea tray with all the trimmings is presented, someone has to pour. If it's unclear who's doing the honors, somebody needs to step up to the task. Here again, the English have worked it all out. The volunteer, be they male or female, will often say to the other guests "Shall I play Mother?" meaning they will play the role of the tea server, and with that, they get up to pour. It's a humorous and silly expression, but adds a sense of kitchen-table casualness to the proceedings, even in the most grand of situations.
But no matter how you choose to serve it, whether it be on a wood tray with mugs and a nice homemade pound cake, or on a silver tray with a fine teapot, cups, saucers, strainer and tiered stands with fresh-cut watercress sandwiches, scones, cream and jam, why not indulge once in a while? Bring that plain or fancy tray into a cozy room next to a roaring fire and share some convivial civility with friends. It's hard to imagine a more pleasant way to pass a winter's afternoon.