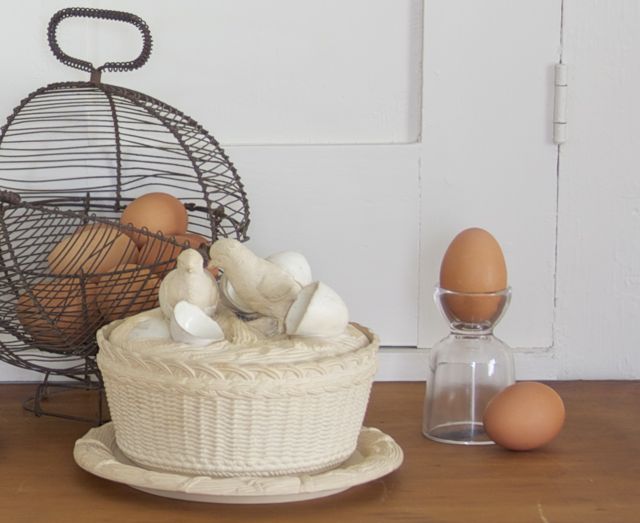 The egg has forever been associated with rebirth and renewal, a perfect symbol of springtime. It has also inspired somedelightful objects. In Matthew's latest public-radio segment (which can be heard by clicking here) he focuses on the egg and the many art forms and traditions it has inspired.
Prefer to read the script? Simply scroll down. Matthew's daily program "The Shape of Things," is produced by RobinHoodRadio.com in nearby Sharon, Connecticut, "the smallest NPR station in the nation." The entire show archive is atthis link.
Eggs
At my house we have two chicken coops. One is for the younger producers who lay eggs like clockwork. The second one is a sort of retirement home for the older hens. We try to give these retirees a nice life, without the pressures of the full-time job.
Our new chicks just arrived, and of course that's always a happy day. Their soft chirps emitting from tiny yellow powder puff bodies is one of the great reminders that spring is at hand.
As they get older and start laying, the eggs begin rather unevenly. Kind of like the first pancakes on a griddle that need to be thrown out. These first eggs are, shall we say, "for practice". Some of them are miniature, not much bigger than a quail's egg. Others have a long and pointy shape or have a rippled or malformed shell. Our eggs are brown, and even after the hens have worked out the kinks, they come in a variety of shades. The color ranges from a pale tan to something resembling terracotta. Some have speckles and spots, others are even, but all are perfect to my eyes.
It's around this time of year that the great variety of birds gather in the forest around our house where they sing and tweet and chirp to attract their mates and begin doing what many animals do in springtime. First comes love, then comes marriage, then comes… eggs. Those eggs are laid in carefully made or hastily found and remodeled nests.
Life is complicated in the wild and sometimes we find an abandoned nest filled with eggs. These beautifully constructed homes made from twigs or straw and lined with downy feathers, frame the contents. It's a vision of domestic simplicity and charming symmetry. These eggs can be in the most astonishing colors – buff, parchment, pale green, or that famous Robin's Egg Blue.
The egg as a shape is perfectly beautiful. It's symmetrical and asymmetrical all at once. The matte finish, admired and copied by master ceramicists, is pleasing to the eye and to the hand.
It's no surprise that the egg is most associated with spring as a symbol of fertility, renewal and rebirth. In the United States we know if its association with Easter. In Orthodox or Eastern Catholic cultures eggs were died red to symbolize the blood of Christ. The shell was meant to resemble the tomb and when it was cracked it represented the resurrection.
But the act of decorating eggs predates Christianity. Persian New Year was for thousands of years celebrated by decorating eggs, which is believed to be where Christians adopted the tradition. Long before that, in pre-historic South Africa, ostrich eggs, dating 60,000 years ago were discovered with designs etched into the shells.
The egg as a bejeweled artform was never more elevated than in Tsarist Russia when Faberge, a Russian jewelry firm, created masterpieces for Nicolas and Alexandra in the late nineteenth and early twentieth centuries. Faberge concocted fabulous eggs in precious metals, enamel and stones. Each one held a jewel encrusted surprise and was presented as royal gifts during Eastertime.
Egg-shaped boxes made of cardboard and covered in charming printed papers, were a German tradition in the 19th century. These, like their jewel-incrusted Faberge counterparts, were meant as a form of Easter gift giving. They are still produced today.
Chocolate eggs, highly decorated with icing flowers are also an Easter tradition. Of course I loved these as a child. It was real eggs that I had a problem with. Growing up I hated them. Fried eggs with a runny yoke (which is how my father ate them), was repellant to me as a child. Boiled eggs smelled horrible, scrambled eggs were like rubber. Many a painful morning was spent as my parents insisted that I "eat my eggs". Those mornings almost always resulted in tears and nausea. But we weren't brought up in a household where we as children made requests for breakfast. We ate what was on the table or we didn't eat at all.
But now, in middle age, I have rediscovered the magic of the egg. Sure, I always felt they were well used in things like chocolate soufflé or angel food cake. I loved coloring and decorating them at Eastertime, but now I can crack one open, whip it into a froth, throw some butter into a hot skillet and with nothing but salt and pepper, create a simple and scrumptious breakfast. All made possible by my dear and happy hens.