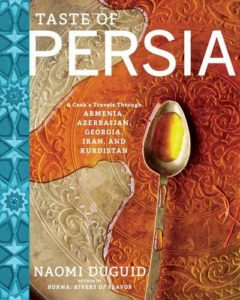 Noted author, cook, teacher, photographer and world traveler Naomi Duguid shares the evocative flavors from her new book Taste of Persia in this demonstration-style class. She'll start with one of the wonderful one-dish meal-style Persian soups called ash, made with loads of chopped greens and herbs. She'll prepare a pkhali, a Georgian vegetable pate rich with walnut – delicious spread on a bread or served as a vegetable side – and then Persian herbed rice and pomegranate-marinated kebabs.
Naomi Duguid's cookbooks have won a combined 14 cookbook awards. She is the author of Taste of Persia: A Cook's Travels Through Armenia, Azerbaijan, Georgia, Iran, and Kurdistan, coming from Artisan Books on September 20, 2016, and of Burma: Rivers of Flavor, winner of the IACP Cookbook Award for Culinary Travel and the Taste Canada Food Writing Award.
Her four previous titles, co-authored with Jeffrey Alford, are also award winners. These books include two James Beard Foundation Cookbooks of the Year, Flatbreads & Flavors: A Baker's Atlas and Hot Sour Salty Sweet, along with Beyond the Great Wall: Recipes and Travels in the Other China, Mangoes & Curry Leaves: Culinary Travels Through the Great Subcontinent, and Seductions of Rice.