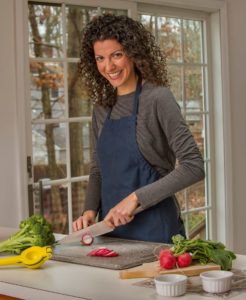 Our Intuition in the Kitchen Series, led by Marti Wolfson, Culinary and Lifestyle Medicine Educator, focuses on delicious, nutritious cooking for optimal health. The topic for Part 2 is soups.
Students can opt for one class in the series if they prefer; a link to the other class in the series is at the end of this page. 
Healthy, Flavorful Soups: a hands-on class: 
Soup is one of the universal meals that unites us all. Whether it's a broth, soup or stew, there's nothing more comforting and nourishing. In this hands-on class Marti will teach you the foundation to delicious and nutrient dense broths and various applications for soups and stews. (Class is gluten and dairy free optional.) 
Recipes we'll make and enjoy together:
Pastured Bone Broth
French Onion Soup with Golden Croutons (dairy option)
Broccoli, Leek, and Potato Soup (dairy free) with Cashew Cream
Moroccan Chickpea and Root Vegetable Stew
Marti is a longtime voice in the "food as medicine" field, specializing in the treatment and prevention of chronic diseases through culinary nutrition education and mind-body practices. She is founder of MW Culinary Wellness, LLC, a culinary nutrition and wellness practice based in NYC. She provides private and public cooking classes, one-on-one counseling, corporate wellness presentations and workshops. She has been passionately transforming people's awareness around their health for 15 years.
Note: On Nov. 20, Marti will offer another class in this series, on recipes for gut health; information on that is at this link.