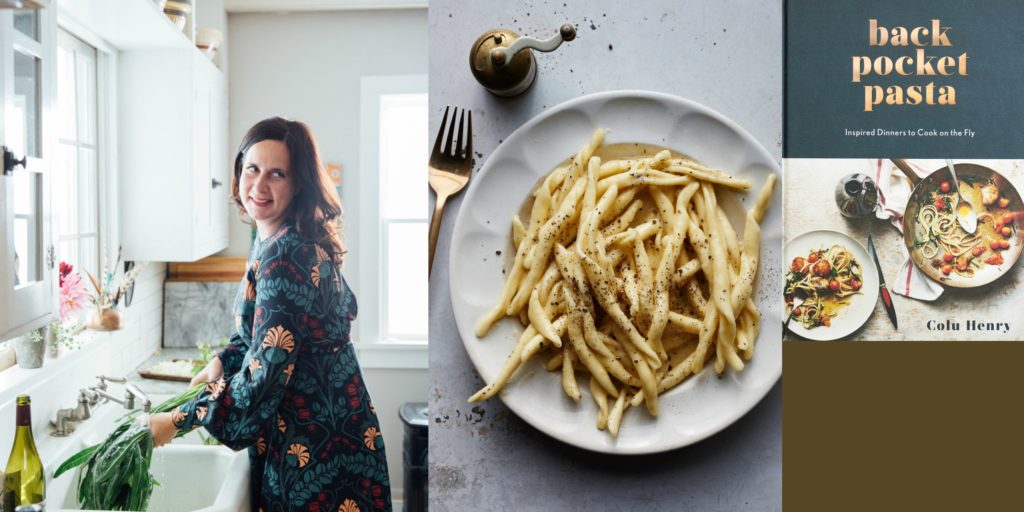 Join us for a special event celebrating Hudson cookbook author Colu Henry's new cookbook "Back Pocket Pasta." Colu will demonstrate a delicious dish from her new cookbook which you will be able to taste, followed by a book signing. Ticket price includes a signed book, which Colu will personalize for you. Bring a friend!
As much a mindset as it is a cookbook, "Back Pocket Pasta" shows how a well-stocked kitchen and a few seasonal ingredients can be the driving force behind delicious, simply prepared meals. Pantry staples—a handful of items to help you up your dinner game—give you a head start come 6pm, so you can start cooking in your head on the way home from work. For instance, if you know that you have a tin of anchovies, a hunk of Parmesan, and panko bread crumbs, you can pick up fresh kale to make Tuscan Kale "Caesar" Pasta. Or if you have capers, red pepper flakes, and a lemon, you can make Linguine with Quick Chili Oil. With genius flavor combinations, a gorgeous photograph for every recipe, and a smart guide to easy-drinking cocktails and wine, "Back Pocket Pasta" will inspire you to cook better meals faster.
About Colu: Colu Henry is a food-lifestyle influencer and recipe developer. She spent her early days working in the fashion and lifestyle world, but found herself drawn to food, wine and restaurants. She went on to spend six years representing high-profile chefs like Marcus Samuelsson, Kurt Gutenbrunner, and Scott Conant and eventually followed her passion for Pinot Noir to Oregon, where she helped spearhead PR for the Oregon Wine Board. Colu later joined "Bon Appétit," first as the Director of Public Relations and eventually becoming the Director of Special Projects. She drew on her love of food, drink, music, fashion and the art of eating out (and in) to help build "Bon Appétit" into one of the worlds most progressive food-lifestyle brands.
She has also completed Fine Cooking One at the Institute of Culinary Education. Colu lives in Hudson, New York.