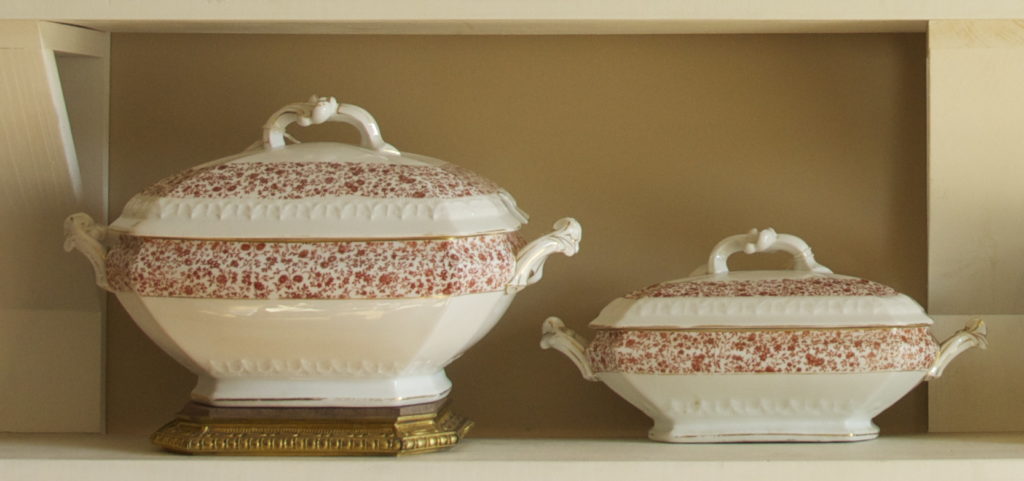 At Hillsdale General Store, we have this nutty attraction to tureens. It might be because of the endless variety of designs, or simply that they are beautiful objects that hold FOOD.
Below is HGS founder Matthew White's musing on this object, the script of one segment of many from his weekly public-radio program called "The Shape of Things," produced with RobinHoodRadio.com in nearby Sharon, Connecticut, "the smallest NPR station in the nation."
If you'd rather listen than read, here's the link to the podcast to stream now, or simply use the player below, or browse the show archive.
The Tureen, by Matthew White
I love eating. And I like stuff. I especially like stuff that has to do with eating. Like dishes. Crazy about dishes.
As summer dwindles, we tend to turn our attention away from bar-b-q's and picnics and toward cozy entertaining inside the house. Holiday tables come to mind with special linens, silver, china and glassware. These things join together to create a festive and elegant setting. And these carefully laid tables enhance our dining experience.
With this "stuff" comes traditions and rituals. One of my favorites is beginning dinner with a piping-hot soup served from a tureen, the king of tableware. When a tureen is brought to the table, it becomes the "opening ceremony" of sorts. It sets a tone for the dinner to follow.
Soup tureens are large, deep vessels that have lids to protect the contents and keep it hot. There are also vegetable tureens, which are usually lower and smaller, and sauce tureens that can be miniature versions of the Big Daddy. Soup tureens can be round, oval or rectangular, or in any number of natural or fanciful shapes such as cabbages, pumpkins, or even wild game or fowl. Rabbits, turkeys or the head of a boar are a few examples of these. Others might be raised on decorative feet or a modified pedestal, and many have an under-plate or plateau that protects the table linens, while giving the whole effect a bit more oomph.
A hearty stew served from a rustic earthenware tureen makes a simple dinner an occasion. Highly decorated porcelain or silver pieces add a more refined civility to the proceedings. I also love the very simple 19th-century tureens that were made in England or America in plain white ironstone. These have a very basic yet pleasing form, often topped off with a fruit-shaped knob, perhaps an apple or pear.
Historically, a tureen can be traced to a communal bowl, so they have always been employed as a shared dining experience. Royals and peasants alike used tureens for centuries. In the 18th century, the French nobility were famous for excessively rich designs wrought in silver, but many were melted down after the Revolution, so existing examples are rare. One early 18th-century tureen by Parisian silversmith Thomas Germain sold in the mid-1990's for over ten million dollars. Now that's gotta be some pretty good soup!
But it is not just about the object itself, it is the ritual that makes tureens so special. Once the huge crock is carefully brought from the kitchen and set on the table, the anticipation builds. When the lid is lifted, allowing steam to escape and a delicious aroma to fill the room, mouths water. I love ladling hot soup into low soup plates with wide rims. It allows for easy handling and the soup to cool for comfortable eating. It also makes a very appealing presentation.
But no matter how you entertain this fall, consider bringing back the tureen. It can be plain or fancy, filled with a country stew or an elegant bisque.
Not only will you only make your guests feel special, you will commune with our ancestors, as you carry that heavy vessel, filled with lovingly prepared soup, remove its lid and commence to ladle it out to a thankful table.