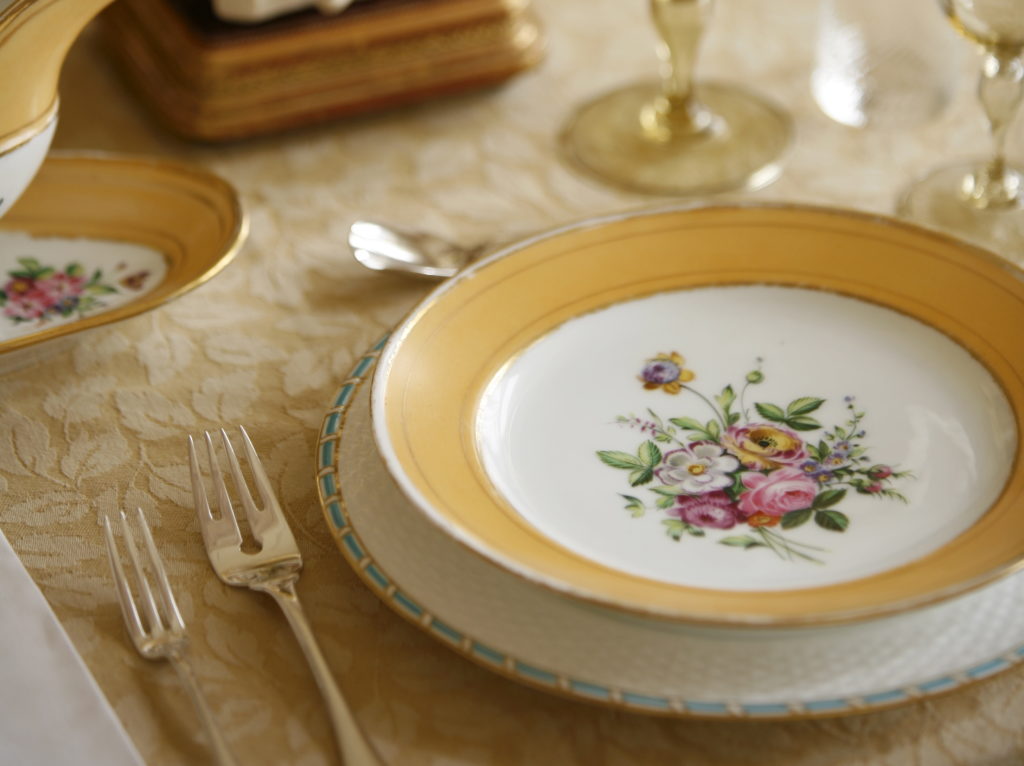 Autumn is one of the most glorious times of the year, a season when we turn our attention from outside pursuits to activities inside the house – especially when it comes to food and entertaining. The harvest table, laden with savory dishes, is one of the great joys of fall. How that table is dressed can enhance the experience.
In Matthew White's latest National Public Radio short story he bids a fond farewell to summer and anticipates the promised pleasures of the season.
To listen to the podcast, click here or simply use the player below. Prefer to read the script? Scroll down.
Matthew White's series of radio short stories, is called The Shape of Things, and is produced by RobinHoodRadio.com in nearby Sharon, Connecticut.
THE AUTUMN TABLE
It's been a glorious summer here in the Hudson Valley, with ideal weather for dining alfresco. I like to do this on the garden table just outside my kitchen, or on blankets beneath an ancient oak tree overlooking our small orchard. Dining outside by definition is more casual, which is not to say that it should be done without style.
When in the garden I set the table simply, and always use real linen napkins. The centerpiece can be a bowl of fruit or just something delicious to eat, such as tomatoes from the garden drizzled in olive oil and sprinkled with freshly picked, fragrant herbs.
For picnics I spread plaid blankets lined with a waterproof material for relaxed comfort and place linen tea towels beneath the carefully prepared dishes. Even here I use real glasses, pottery and linens. Life it too short to exclude the things that make it so nice.
But as summer winds down and the leaves start to turn, so do we, toward the inside of our houses. As much as I adore summer, and think it goes way too fast, I feel the consolation prize for seeing it slip away is comforting autumn food and beautiful tables dressed for the season.
For me, everything revolves around food. It is not only a necessity, but is one of life's most reliable pleasures. Good food, lovingly prepared with fresh, local ingredients is just part of the experience. A clean and attractive room to eat in is also very important. Then there is the table.
I love a round table for easy conversation (another key element of any meal), though square, rectangular or oval shaped tables all have their advantages. But it is how the table is dressed that can transform a regular meal into an occasion.
No matter how rich or poor one is, I see no reason to have cans and cartons on the table. If you put milk on the table, put it in a pitcher. This simple act ennobles the food, the people and the experience. The way to a beautiful life is not through wealth; I've seen very rich people who live poor lives. No, a beautiful life is easily attained by rejecting any element that is useless, unattractive or commonplace.
Some of the most beautiful tables I've ever seen are the simplest. Plain white pottery and basic flax linens on a worn wooden table can be so much better than a table dripping with gilded porcelains and silver. With a simple branch or two from the garden (which in the autumn can be eye-popping) one can transform a simple meal of stew and bread into a glorious feast.
This is what luxury means to me. It's not the expense involved, but the quality that matters. Linen napkins are key to the tactile and visual experience. Candlelight and a glass of wine never hurt either.
Honestly, if you just get back to basics and follow the old traditions of simple foods and tableware made of honest materials, there's nothing more required. But when you introduce paper napkins, chemical-filled soft drinks taken from an aluminum can advertising the contents, or processed foods made from unhealthy ingredients, the experience is taken very far away from what it was meant to be.
A meal should not just nourish the body, it should nourish the soul, and all of the senses. As the fall harvests come in and fireplaces are lit on chilly evenings as savory autumn dishes are prepared, we can take a breath and say thank you. Why save it for Thanksgiving when autumn gives us a gift that we can be grateful for every day of the season?