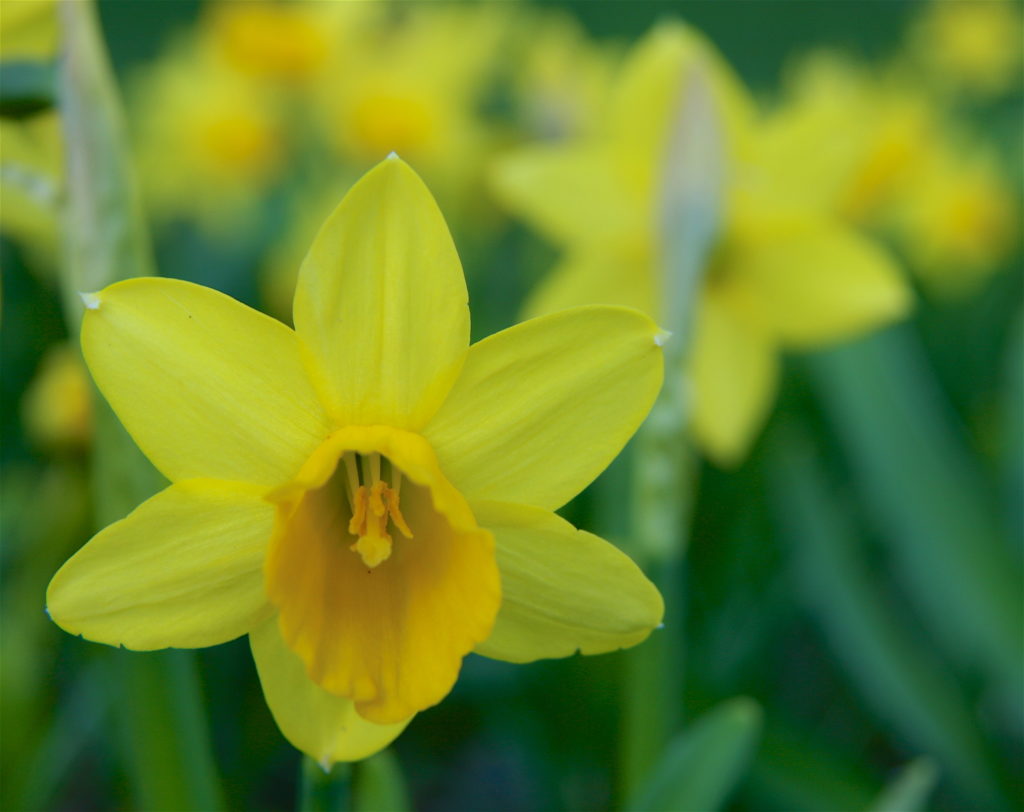 Spring has finally arrived and with it the glory of the daffodil ~ a flower who's magic has been chronicled by poets through the ages. Matthew White can wax fairly poetic on the topic as well, and why not? This glorious golden beacon of springtime is a welcome sight after such an endless winter. To hear his public-radio segment in the topic, click here.
Prefer to read the script? Simply scroll down. Matthew's daily program "The Shape of Things," is produced by RobinHoodRadio.com in nearby Sharon, Connecticut, "the smallest NPR station in the nation." The entire show archive is at this link.
Daffodils
I've always been crazy about daffodils. I think it must be because of my childhood where harsh and ugly winters on the Texas plains were finally relieved by the sight of this singular, early blooming flower. Somehow their sturdy blossoms withstood the unrelenting wind.
But it was the unique shape of the daffodil that captured my imagination. They have a fairy-like magic about them, with their six golden petals crowned by a central bell or cup. This cup is fluted and finished in delicate frilled edging.
The daffodil is from the genus Narcissus, which makes perfect sense. I mean, if I looked like a daffodil I would gaze at my reflection all day long.
Now that I live in the northeast, my heart still leaps a little when daffodils spring up along our country lanes or in the abandoned gardens of old houses. My garden is surrounded by a forest. It is without a fence and I refuse to put one up just so I can plant things the deer long to eat. So I planted daffodils. Hundreds of them! The deer refuse eat them, but rather than believe it's because they taste bad or are toxic, I choose to think that the deer cannot bring themselves to eat the flowers because of their perfect beauty.
Daffodils or Narcissus (also known as Jonquils) come in a variety colors, from white to yellow to orange, and in many combinations of those shades. But the plain yellow is my favorite. They are grown from bulbs and are in the Amaryllis family, which makes sense because of their hardy, leafless stem holding up blossoms that are equally tough.
Perhaps that's another reason I like them so much. They seem delicate, like the finest porcelain, yet they are sturdy and strong.
There's a poem I love, written by the English Romantic poet William Wordsworth in 1804, it's called simply, The Daffodils.
It goes like this:
I wandered lonely as a cloud
That floats on high o'er vales and hills,
When all at once I saw a crowd,
A host of golden daffodils;
Beside the lake, beneath the trees,
Fluttering and dancing in the breeze.
Continuous as the stars that shine
and twinkle on the Milky Way,
They stretched in never-ending line
along the margin of a bay:
Ten thousand saw I at a glance,
tossing their heads in sprightly dance.
The waves beside them danced; but they
Out-did the sparkling waves in glee:
A poet could not but be gay,
in such a jocund company:
I gazed—and gazed—but little thought
what wealth the show to me had brought:
For oft, when on my couch I lie
In vacant or in pensive mood,
They flash upon that inward eye
Which is the bliss of solitude;
And then my heart with pleasure fills,
And dances with the daffodils.
This poem captures, even today, the joy of seeing a great patch of daffodils here in the Berkshires. Whenever I see them in front of an early 19th century house, perhaps one even built in 1804 when this poem was written, I think of Wordsworth and how his sentiment still connects to our feelings when we chance upon these lovely flowers.
I also think back to the previous month where winter seemed as if it would never end. Cold, and bare, and brown. And how a single little flower can erase that surly and endless winter with the nod of its golden head.
Robert Herrick, an English poet, who was born in the 16th century, also wrote a poem about this flower, called, To Daffodils. The first lines goes like this…
Fair Daffodils, we weep to see
You haste away so soon.
MW