It's a funny thing about old buildings, if you listen closely, the walls speak. When we restored our historic building the long-abandoned rooms upstairs were layered with peeling paint and distressed wallpaper.
When Franca Fusco, owner of Boxwood Linen opened her shop in the HGS building, she found a beautiful, but crumbling Victorian wallpaper in the closet of her shop. She documented it as inspiration for a future project. Franca has an unerring eye as she designs her gorgeous table linens, quilts and aprons. Her shop is well known for beautifully hand-finished linens and has created quite a stir with local customers and magazine editors as well.
But she kept this wallpaper idea under wraps. Then, as we were launching our on-line store, she said she wanted to create an HGS original design, inspired by the wallpaper that she discovered and documented. She took an element from that paper, created a graphic interpretation and now embroiders it onto lovely linen coasters. She named the design "Hillsdale Flower". The coaster is made of flax linen and the embroidered design is offered in four colors. They are sold exclusively through our online shop.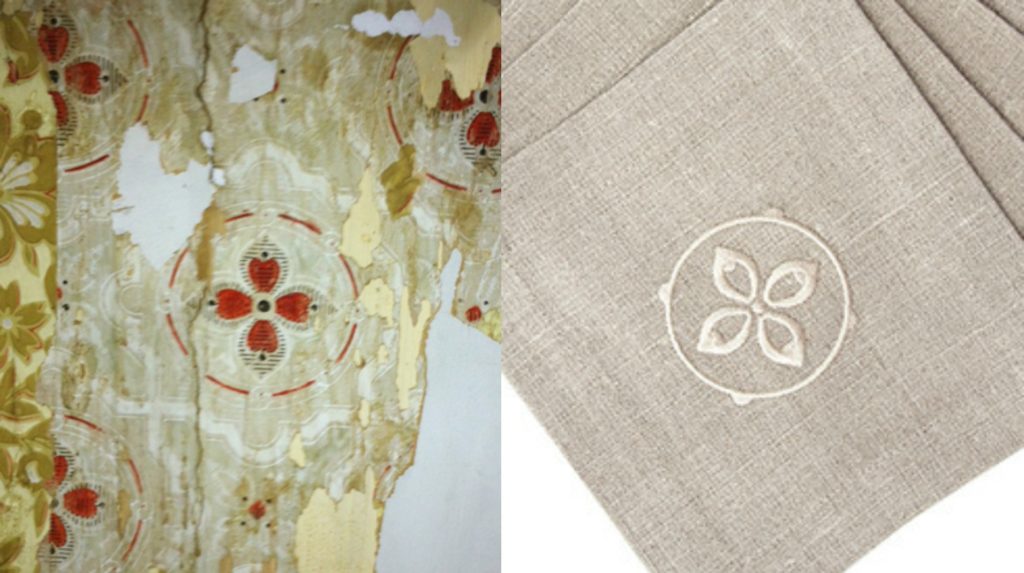 Another amazing discovery during construction was a 19th century wallpaper book we unearthed in the attic. Wallpaper was BIG in Victorian days and during this period our building was known as Dimmick's Store. Dimmick's sold everything from butter and eggs, to calico, tobacco, shoes, housewares and apparently imported wallpapers.
In Matthew Whites, National Public Radio program, The Shape of Things, he shares this amazing discovery, and how these antique papers provide a method of time travel for us today. His story takes us to a 19th century country store that brought a bit of high-style décor to the houses and people of the Hudson Valley.
To listen to the podcast, click here. Prefer to read the script? Simply scroll down.
Matthew White's series of radio short stories, is called The Shape of Things, and is produced by RobinHoodRadio.com in nearby Sharon, Connecticut.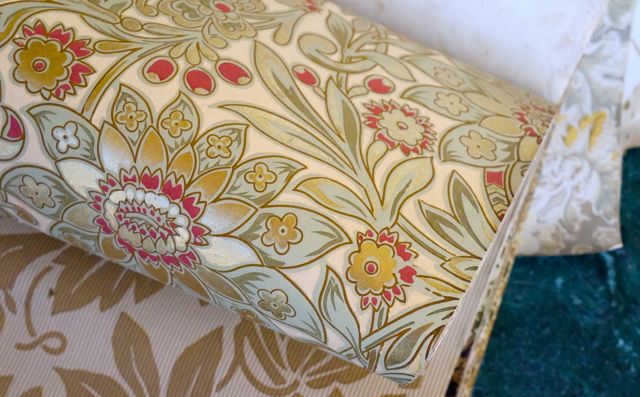 Wallpaper book
My store is located in a simple country building erected around 1855 on the Main Street of Hillsdale, New York. It has been a store since the very beginning. The style is generously called "classical revival" with its temple shaped pediment facing the front. A double porch is the building's only detail, and even that is fairly basic. But it has pleasing proportions and suits our little town.
The building has held many things over the years. Most recently it was a video store and then going back in time – a TV repair shop, a sporting goods store with ladies clothing sold upstairs. This ladies shop was known as the "The Farmerette". That's going back to the 1950's
For most of its life is was known as Dimmicks, named after the family who ran a business there from the 1860's through the 1940's. That's quite a run. I have met people who remember buying candy at Dimmicks as a child. They walk in today with a sense of wonder and are often so moved they sometimes even weep when they see our old-fashioned candy counter. I am always moved by these responses, and pleased too, that my place brings back moments of seemingly lost nostalgia.
When we began the restoration of the building, we discovered all sorts of objects under floorboards, in the basement and in the attic. I loved discovering these relics and listening to the stories they'd tell. Typical finds were small bottles and tins with old labels, all from the 19th century. Some were for snuff, or spices. Box lids, equally old for wool leggings or rolled oats were discovered. Large wood crates that once held men's shoes were found upstairs. They were filled with ancient newspapers and nests of long-gone mice.
In the basement under rotting floorboards we found loads of oyster shells. We also found a wood crate with a label from a Chatham, New York establishment that supplied oysters and confections. Of course oysters were a big deal in the 19thcentury so it's no surprise that a good General Store might have provided them.
I also discovered a gold-plated suspender buckle, a horsewhip, and numerous strange little objects made of wood or metal or glass. These are all clues to what might have been sold here back in the day.
But one of my favorite treasures is a crudely bound book that I found under piles of refuse in the attic. It's about the size of an old fashioned telephone book and almost as thick, it has a simple card cover with the word "Dimmicks" written by hand in pencil on the front.
The plain cover belies its contents. Inside is the most splendid array of 19th century wallpapers with a dizzying selection of patterns, one a more outrageous than the next. Some of these Victorian concoctions are lavishly highlighted in bright gilding.
I am a student of historic interiors, and I always try to picture a particular element within its original setting. These papers are so over the top, yet the golden details would no doubt glimmer in the nineteenth century light of gas fixtures or candles on a cold winter's evening. It is easy to see how this might appeal to a person who's rural life would no doubt feel harsh or even bleak compared to our lives today. I think this was especially true in the winter months, when short, dark days could be brightened and cheered by such rich and gilded patterns.
To modern eyes these wallpapers might feel suffocating. They remind me of an Oscar Wilde quote as he neared his death in Paris. He apparently said, "The wallpaper and I are fighting a duel to the death. One or the other of us has to go".
The wallpaper clearly won in that dual, and this old book somehow survived in my building for well over a century. It shares a story of the luxury of florid patterns that were hidden under the plain card cover to entice a lady with a farmhouse in Hillsdale more than a century ago to dream of a more glamorous life.
MW