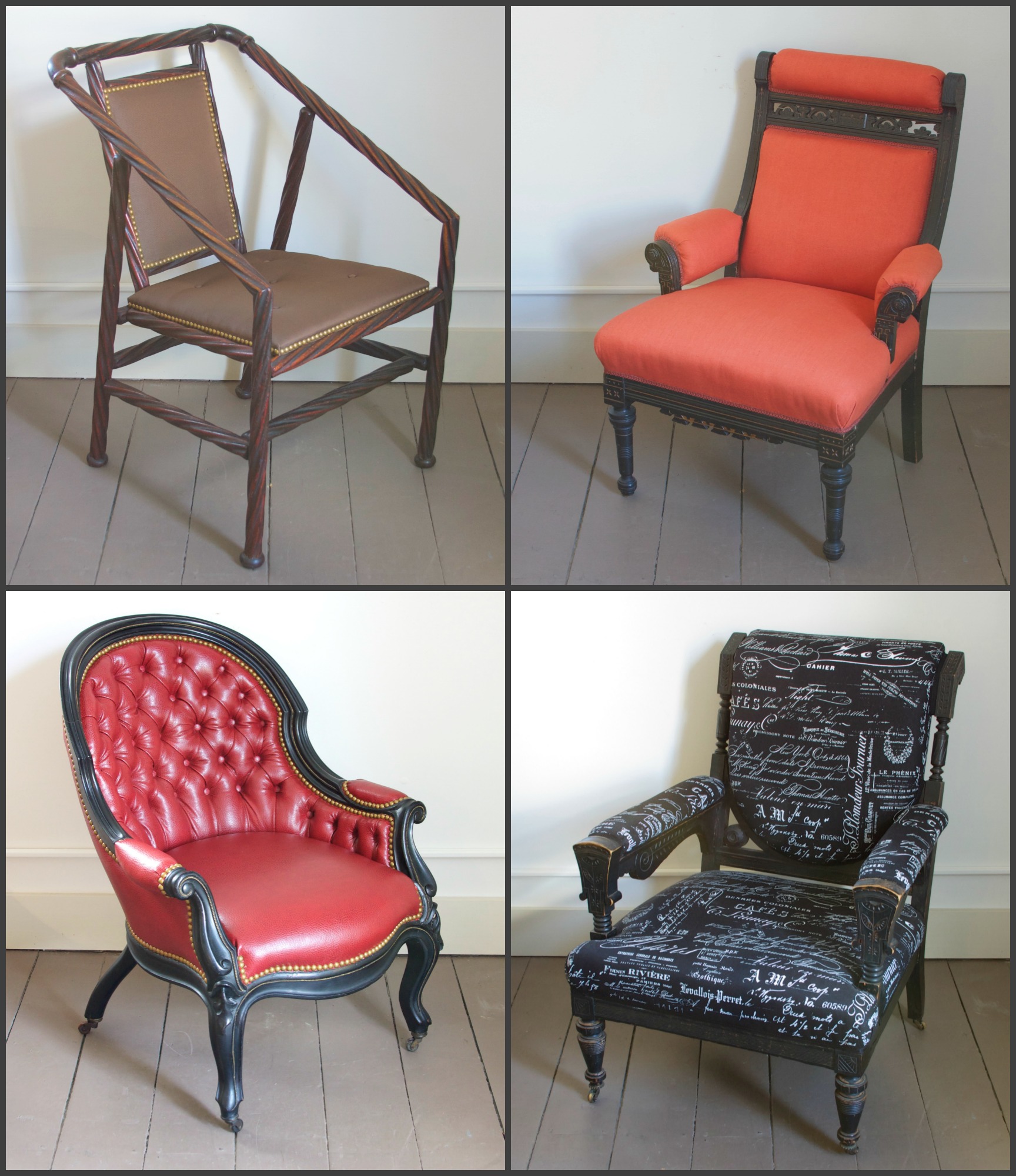 Victorian chairs are an odd obsession for Matthew White, so much so that our second floor at the store now has a healthy collection of them. In Matthew's latest National Public Radio short story he shares the attraction he has to these quirky pieces of furniture, and how this nutty passion leads to saving down-on-their-luck examples to bring them to their former glory.
To listen to the podcast, click here, or simply use the player below. Prefer to read the script? Scroll down.
Matthew White's series of radio short stories, is called The Shape of Things, and is produced by Robinhood Radio in nearby Sharon, Connecticut.
VICTORIAN CHAIRS
I love chairs. Their individuality and shape reflect the presence and personality of the people who first sat in them. They have arms, legs and a back, just like people. They can be spindly and spare or rounded and robust.
I like chairs from all periods and cultures. The square-ness of Chinese chairs of the Ming period, or the outrageous luxury of silver chairs of India's great Maharaja – these are all fabulously unique expressions of style that tell of a time and a place. Actually, I guess all chairs do that.
There are the sedate English chairs of the 18th century with elegant lines such as the refined curve of a cabriole leg on a Queen Anne Chair. The Georgian period expanded the forms with exotic and beautiful interpretations of chinoiserie style. Moving into the nineteenth century, the Regency period created impossibly elegant shapes, many inspired by antiquity.
In France there were the Louis' – with their gilded and exuberantly carved creations spanning centuries from the Baroque to the Rococo and finally the Neoclassical style of Louis XVI. In the early 19th century Napoleon carried on the tradition but with a more robust and militaristic classical style as a way to brand an "empire" of his own.
Later in the 19th century in England and, by extension, America there was the Victorian period, which of course didn't have a single style but instead an eclectic mish mash that ran the gambit from renaissance revival, Eastlake, gothic and a pastiche of nearly every style under the sun. Neo-Egyptian anyone? The Victorians had them all.
The great taste makers of the twentieth century often looked down on the Victorian period. And, I think largely with good reason, when you consider the quality and perfect proportions of what came before the industrial revolution which was the great game changer of the age
And yet, I've become a reluctant fan of the Victorian period. I do realize that nothing can really compete with the elegance and craftsmanship of the eighteenth century, but the nineteenth century most definitely has its charms.
The endless shapes and ornamental affectations of these late 19th century chairs can be enormously appealing. Their effusive style almost begs to be adored. Some of these chairs are small and rather uptight, yet with exuberant embellishments as if to keep the commonplace, work-a-day drudgery of 19th century life at bay.
Some are stately and majestic such as tufted leather library chairs of sturdy oak or walnut, or for a more feminine feel, silk covered armchairs with gilded wood and endless fringes and trimming.
While there were many downsides to the industrial revolution, the upside is that the American middle class grew and the furnishings they could buy were far more varied and plentiful. The chairs created for this audience were not of precious rosewood or encrusted in gilt bronze mounts, but the surviving seating can be just as seductive as their more aristocratic counterparts.
The designers of these chairs likely did not have the pedigree of those who created finer furniture, and there was lots of copying going on. Yet the honesty of these less expensive pieces make them interesting in their own way
The German immigrant George Hunzinger designed and manufactured highly innovative chairs in the last half of the 19thcentury in Brooklyn using entirely machined parts, mostly wood turnings. His pieces were a departure, and rather cutting edge for the time – quite different from the Rococo Revival furniture of John Henry Belter, another German transplant to New York in the 19th century.
But whether pedigreed or less so, I have developed an inexplicable need to save stylish but sad Victorian chairs when I see them. So I gather them up, sometimes in pieces, so the restoration can begin. This process ends with me dressing them up in the right fabric.
It's like dressing little people in their most flattering outfit. In fact, oddly, I feel that's exactly what it is. By bringing back these charming relics of another age, I feel I am honoring those who carefully selected them back in the late 1800's to furnish their Victorian cottage and make their lives a little more elegant and comfortable.