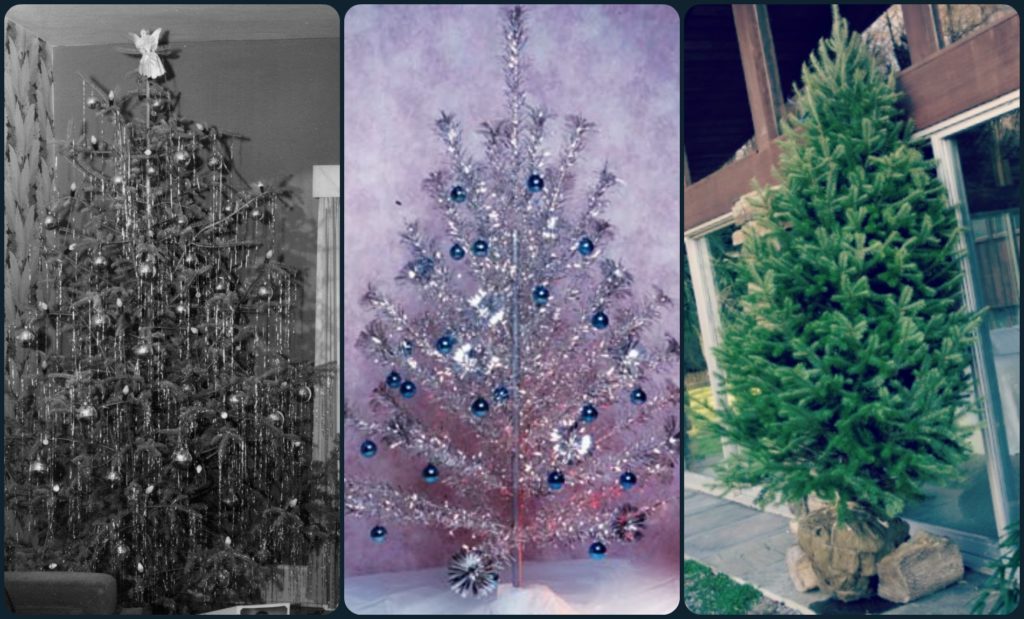 The style in which Christmas trees of past decades were decorated is as identifiable as a 1960's coiffure or 1970's macrame. In Matthew White's latest National Public Radio short story he recounts the Christmas trees of his childhood which recall a time and a place. Perhaps some of his memories relate to your own?
To listen to the podcast, click here, or simply use the player below. Prefer to read the script? Scroll down.
Matthew White's series of radio short stories, is called The Shape of Things, and is produced by Robinhood Radio in nearby Sharon, Connecticut.
THAT 70's CHRISTMAS TREE
As a kid, when Christmas rolled around my whole world became magic. The experience was enhanced by sweets, decorations and the many exciting preparations. From a non-religious perspective, it was the Christmas tree that created the epicenter of activity.
Selecting the tree, bringing it into the house, making sure the lights worked, and then the endless debates on how best to decorate it was all part of the ritual. It was a big investment of time, but that's what made it so special.
In the 1950's trees were covered in glass balls, huge colored light bulbs and finally frosted with endless aluminum "icicles". These were narrow and crinkly strips of metal, but they weren't really aluminum, they were actually made from tin and lead. This explained the weight and the distinct way they hung. Metal icicles as decorations were developed in 17th century Germany, but were widely used in the mid-twentieth century.
For the full effect they needed to be applied one at a time. It was a laborious activity, but when done properly the look was fabulous. They reflected the light spectacularly, hanging like tiny frozen waterfalls from each piney branch. With the slightest movement they shivered and shimmied like the fringe on a flapper's dress.
But because they were made of lead, the FDA banned them in 1971. Rumors spread of children and pets eating them and so, that was it, no more icicles. Someone came up with a replacement, made of lightweight Mylar, but they didn't have the weight to hang in such opulent glory, so rather than looking sumptuous, they just looked flashy and cheap.
From the late 50's through the mid 60's aluminum Christmas trees became the fashion, often decorated with a single color ball, as to remove any personal statement. It was an instant look, easily store bought and utterly without charm. Today, with the passing of years, it is viewed with a certain amount of nostalgia, but to my eyes, it lacked all of the tactile and sensory pleasures that an old-fashioned Christmas tree provides.
As the 1970's rolled around, the Christmas tree went back to its roots so to speak. At least in our house. Our tree was not only real; it was alive, with a burlap-wrapped root ball. When the tree went out after the New Year, we didn't toss it, we planted it.
Out, too, went the strings of oversized colored lights, and in came the tiny twinkle lights we have today. Ours were all in a soft gold, which gave the effect of the tree covered in candles. I was quite crafty in my teens, and arranged for real candles to be placed at the top, in a sort of crown. With tinsel and aluminum trees a thing of the past, we turned away from the glitzy manufactured look to a very homespun tree.
We started making our own decorations. We covered Styrofoam balls with little patches of calico and lacquered over it, just as Gloria Vanderbilt famously did in her Manhattan apartment on her walls and floors. This folk art look was all the rage from our humble home in Texas to the great tastemakers of New York City.
But our crafty hands didn't stop there, we spent hours making gingerbread men, simply decorated with piped frosting. To finish off the look of our old-time tree, we popped bushels of popcorn and strung it with fresh cranberries onto a thread. The effect of the red berries interspersed with popcorn appeared like rubies mixed with baroque pearls. It was truly beautiful, and worth the many hours and pricked fingers it took to create the naturally bejeweled ropes.
But when it came to our Christmas tree, we weren't purists. Mixed in were all the ornaments in our collection, including those that my siblings and I made as children through the years. When we were done, our tree was lavishly covered, top to bottom with every conceivable kind of ornament. The overall effect was as resplendent as it was simple. Quite the opposite of the aluminum tree, ungenerously sprinkled with a single color of Christmas ball.
The tree, soon to be planted outside, was by no means an ideal shape, but somehow, just like Charlie Brown's sad little Christmas tree, it was turned from an ugly duckling into a swan.
But it was the fragrance that provided a surprising bonus. The intense pine scent blended wonderfully with our freshly baked gingerbread, popped corn and cranberries. When all was done I would light the candles surrounding the crown of the tree. Then we'd stand back to take in the visual splendor and delicious aroma of our handy work. With that, the season would begin.